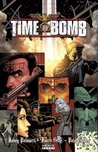 Time Bomb
by
Justin Gray
My rating:
4 of 5 stars
Picked this up from my library, and I was pleasantly surprised. This quartet of special operatives were tasked to go back one day in the past to avert a disaster caused by the activation of an underground Nazi missile carrying deadly biotoxin that could easily end the human race. They end up in 1940s Germany just months prior to the end of the war.
Excellent action, with artwork that gives this a cinematic feel. The characters feel unique, and it's an interesting view to have one of the team members as a black man in Nazi Germany, although they didn't delve into it as much as one would expect. However, this is a really quick time period (24 hours), and it's practically nonstop. It gets very interesting. I didn't really understand the technology, but that's not a deal breaker. I liked the various gadgets that the team took with them, and they were all extremely capable and lethal.
I'm a bit of a WW2 geek, so I'm glad I was able to read this. I'd like to read more about this team.
View all my reviews