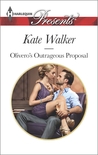 Olivero's Outrageous Proposal
by
Kate Walker
My rating:
3 of 5 stars
I was disappointed with this book. I guess it's my own fault. This cover was so gorgeous, it made me excited to read the book. However, the story is pretty ho-hum. It lacks passion, and I don't just mean sexual passion. I thought it would be pretty vibrant because of how they first meet and their instant chemistry, but this foundation isn't built on in a satisfactory way for me. Fundamentally, I didn't get excited about reading this, but I just wanted to get it read.
One thing that was pretty interesting was how malignant Dario's brother was. He was basically stalking Elyse because his father wanted him to marry her, and her father pretty much dangles her like bait in front of him. I think Dario's father was a big, fat jerk, and it bothers me that Dario was so stuck on getting his approval. I know his mother made him promise to reconnect with the guy, but Dario was too emotionally fixated on his father's approval. Poor Elyse comes off as a pawn for most of this book. I love revenge stories, but I prefer when the heroine retains some power over herself, even if it's mentally or emotionally. Elyse seems to fold in on herself. I can see how things were with her. Her parents are so fixated on each other, she is emotionally neglected. That's why I wanted her to have a hero who was crazy about her. I don't think Dario was really. Of course, at the end, they make up and love is declared, but it wasn't fully convincing to me.
I gave this three stars more because I liked the heroine and I do give the cover props. It's probably nothing special to some readers, but I think it's kind of a unique look for this series.This book had some potential, but it wasn't anything particularly memorable. I think I just have such high expectations for Harlequin Presents because I love them so much, and I'm disappointed when they don't live up to those expectations.
View all my reviews