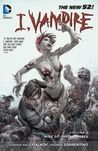 I, Vampire, Vol. 2: Rise of the Vampires
by
Joshua Hale Fialkov
My rating:
3.5 of 5 stars
How can a vampire insurrection get any worse? Add zombies to the equation. I like vampire fiction. Zombie fiction? Not so much. Well, it depends on how it's done. This, well it was creepy and exciting and freaky. Add in some fundamentalist vampire hunters, then it's a party.
On the downside, the Gothic atmosphere I enjoyed so much in the first book isn't as evident. I missed it. On the good side, lots of action and some serious plot twists. Enemies become friends and friends become enemies. And bad guys become good guys (sort of), and maybe vice versa.
Stormwatch comes to lend a hand in the situation. Andrew could honestly use the help. But let's remember the cardinal rule: Andrew Barnett is not to be underestimated.
I'm going to take a break on this series, but I'll be back eventually.
Overall rating:
3.5/5.0 stars.
View all my reviews