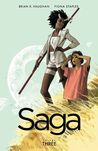 Saga, Volume 3
by
Brian K. Vaughan
My rating:
4 of 5 stars
Saga continues to be a very good graphic novel. The artwork and colors are gorgeous and the story is compelling. I think I would rate this highly if some of the content wasn't deliberately so risque/borderline sleazy. I would love to understand why the author chooses to go in that direction with the story, when the foundational themes of this novel are family, loyalty and solidarity. I'm not a prude, but I do feel like the creator puts some sleaze in here just to see if we're paying attention when we read and view the comic as we turn the pages. Believe me, we are. This story is so good, you can't help but be transfixed. It's what a kid who loves science fiction and fantasy movies and novels is dreaming of seeing as a graphic novel, and hopefully as a movie or tv series one day. It's evident that the creator of this novel has the same foundational series as favorites as many who would read this comic.
I love the fundamental love story here, about how these two people who come from such warring planets and who should be so incompatible, could come together and found a family that is so rich in love. I am interested in the secondary characters and their stories just as much.
I hope my library gets volume 4 and soon!
View all my reviews