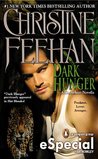 Dark Hunger
by
Christine Feehan
My rating:
4 of 5 stars
I'm just now getting back into reading the Carpathians after such a long break. This was a good start. About Riordan, the youngest De La Cruz brother and Juliette a member of the jaguar shapeshifting species, this is a steamy and action-packed short read.
It has all of the Carpathian aspects that one would expect to see. The manner in which a Carpathian male is brought back to life by his destined lifemate. I have missed all that ritual and the culture of the Carpathians. It was interesting how Juliette and Riordan work out their new matehood. Juliette comes from a species that is highly sexual and Riordan has to get past his jealousy that Juliette was with other men. He isn't a jerk about it, but it's definitely part of his nature to be highly possessive. He loves Juliette, so he accepts that this is part of who she is. It turns out that Juliette is an excellent match for him. Strong and independent, and sensual. Juliette has some serious baggage, due to the dysfunctional social dynamics of the jaguar, the way they abuse their women. She lives with her younger sister, Jasmine and her cousin Solange, and none of them are overly fond of men, with good reason. My mind went to the fact that despite their dislike of men, they had to do their thing because of their species, physical needs. Perhaps in a longer book, Feehan could have delved into that whole jaguar dynamic. It was interesting, and seems to fit thematically with my last couple of Feehan reads, which were in the Leopard series.
This is full of sensuality that Feehan writes so well, and the action is very good and well-integrated into the story. I love reading about all the abilities of the Carpathians, and they're uniquely tailored to this story about a Carpathian with a jaguar shifter lifemate. Of course, it does end abruptly, as a short story. It left me wanting more of Juliette, Riordan, Jasmine and Solange, so that's a good thing.
I went ahead and got this in
Darkest at Dawn
, in which it's accompanied by
Dark Secret
, a more controversial Carpathian book, although it's one of my favorites.
View all my reviews